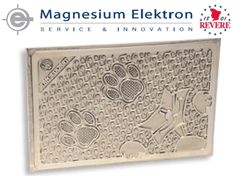 Magnesium
CLEAN, FAST AND USER-FRIENDLY
Magnesium Elektron has produced the industry
standard in photoengraving plates for nearly four decades. The quality starts in Madison, Illinois USA with photoengraving grade magnesium alloy cast into 3,500 lb. high purity slabs. Each slab is processed on two large rolling mills, then thermally flattened and annealed.
The millsheet is coated in our state-of-the-art finishing plants in Findlay, Ohio USA and Manchester UK for distribution to engraves worldwide.
Precision Magnesium Engraving Plates are available pre-sensitized with traditional Red Top™, AQ-BLU™ aqueous developed coating, or new Hydro-Solve™ photoresist. Our complementary designed chemical products function together to produce optimum results for shallow or deep etching.
Light weight, fast etching and environmentally-friendly, magnesium is used for a variety of applications including foil stamping, embossing, thermal dies, flexography, plaques, awards, rubber stamp masters, fabric and leather emobossing.
Complete Magnesium Photoengraving Product Line
Photoengraving Plates
Red Top PRC™ Magnesium
AQ-BLU Developer
Hydro-Solve™ Magnesium
Developers
Red Top PRC™ Cold Developer
Magnesium MD Cold Developer
AQ-BLU™ Developer
Hydro-Solve™ Developer

Premier Etch Additives
Rev-Flex®
Elektron Etch™
Mago20®
W-Flex®
Fine Screen Additives
X5K®
Hydro-Etch®

Sundries
AQ-BLU™ Top Remover
Express Guard® Plate Protector
Visko® Plate Protector
AQ-BLU™ Photo Resist
Red Top PRC™ Photo Resist
Mag Prime™