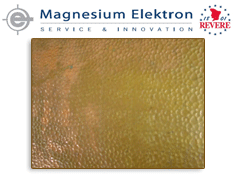 Copper
HARD, FLAT AND PRECISE
Magnesium Elektron's Revere Premium Copper brand has set the industry standard in copper engraving technology for nearly two centiuries, offering the high-end engraver the premium grade copper necessary for the most sophisticated requirements. Cross rolled and thermally flattened, our uniformly stress relieved copper results in a harder, flatter engraving pòete. Gauge and finish tolerances are strictly monitored to provide the copper engraver with unparalleled quality and consistency.
Premium Copper plates are available in Hydro-Coat® or POS-E-COP (Conta)® coatings. Sheets are also available non-sensitized ("polished"). The Copper-Chem® line offers a laboratory grade, precision blend package of low-dusting, safer tu use etch additive powders. Our superior Test Target clearly conveys additive strenght and ensures additive addiction accuracy to within fine grams through a mathematical formula. Combined with Hydro-Coat® and POS-E (Conta)® developers secifically designed for each coating, our system helps you efficiently produce the high precision fine detail, whether for single or multi level embossing or debossing dies, foil stamping, or intaglio engraving. It also offers a prestige look for architectural signage and award plaques.
Complete Magnesium Photoengraving Product Line
Photoengraving Plates
Red Top PRC Magnesium
AQ-BLU Developer
Hydro-Solve Magnesium
Developers
Red Top PRC Cold Developer
Magnesium MD Cold Developer
AQ-BLU Developer
Hydro-Solve Developer

Premier Etch Additives
Red Top PRC Magnesium
AQ-BLU Developer
Hydro-Solve Magnesium
Soundries
Red Top PRC Magnesium
AQ-BLU Developer
Hydro-Solve Magnesium